Reservations for 2022 will open on February 15th 2022
Luxury in the woods is the essence of camping at Dromquinna Manor. Our custom made tents were designed specifically for Dromquinna Manor by safari tent experts in India. They are the last word in luxury. None of the centre poles, low head room, bumpy floors, lack of fresh air and condensation we remember from our youth. These are truly luxury tents.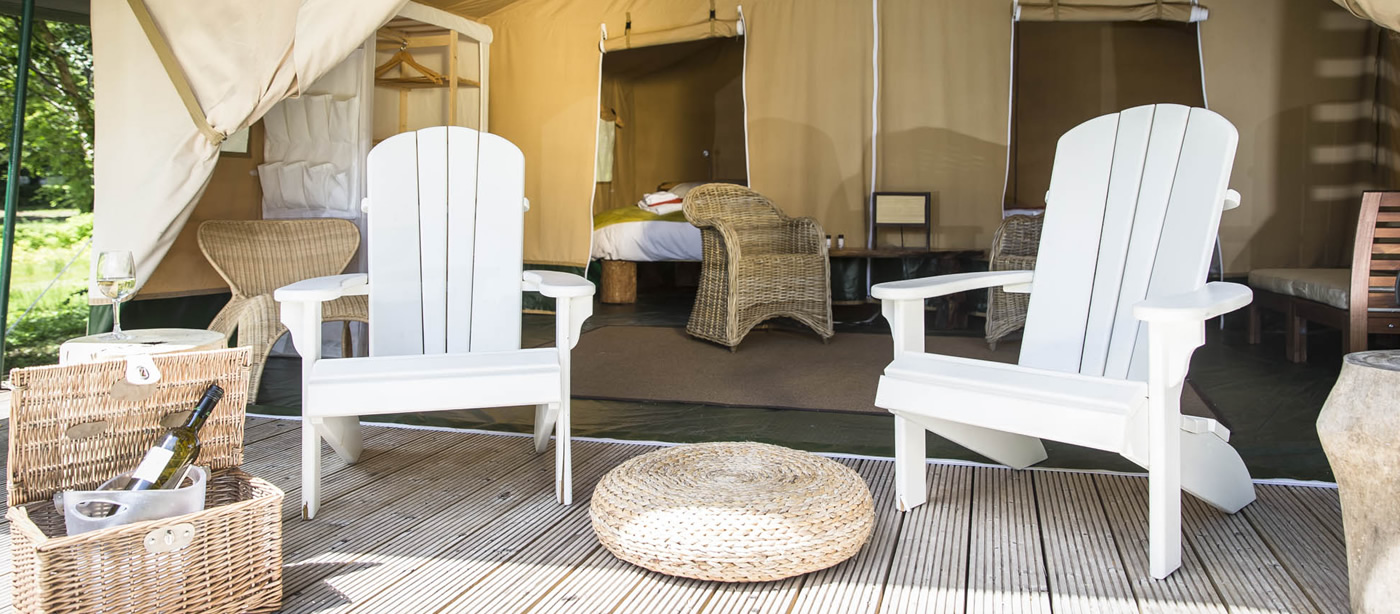 As an example, double skin roofs keep the tent nice and quiet even if it is raining! Each one is placed to take full advantage of the stunning setting and offer maximum privacy. Each tent has its own veranda and deck area and is fully furnished like a luxury hotel bedroom.
The tent is placed on a levelled deck made from sustainable timber giving it a solid base and providing a spacious Veranda. Surrounded by the natural habitat of hardwood trees and indigenous shrubs, the tents are imbued with nature and luxury.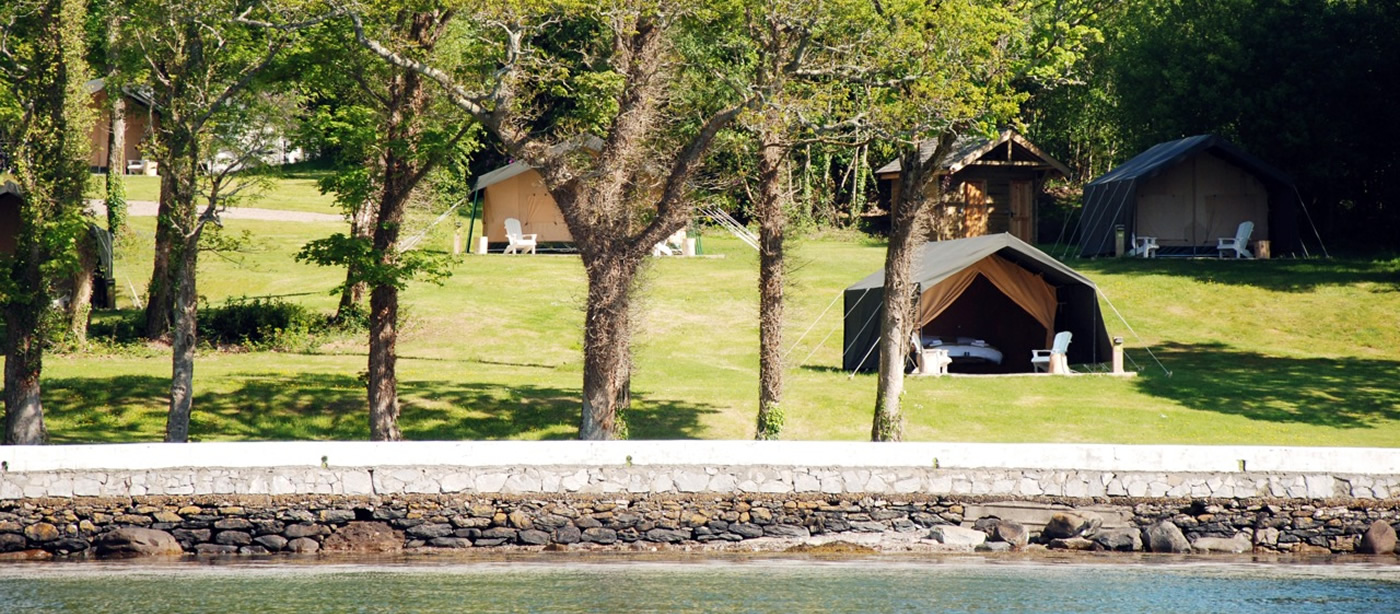 The Tent
Our custom made tents measure 4mt x 4mt inside, with 2mt high walls. Windows feature insect nets and drawback curtains. The double-opening doors make the most of the view, and our vapour-resistant groundsheet stitched to walls will keep you snug and dry. Open back the doors, roll up in a fluffy duvet and take in the view. Our Family Tents have a second bedroom with two single beds suitable for children up to 16 years. All beds have a bedside light and central light in the sitting area for your enjoyment.
The Wilderness Bed®
The Wilderness Bed features a trunk log base, fully sprung 5-Star king size mattress, Snoooze topper, goosedown duvet & pillows, crisp white cotton linen and the joy and excitement of luxury camping.
The Veranda/Deck
Each tent features a 2m x 5m covered Veranda/Deck with furniture to relax on at night and contemplate life as the moon reflects on the glistening waters of Kenmare Bay.
Breakfast
And yes we even deliver a hamper of freshly brewed Tea or Coffee, Yogurt, Croissants and Juice for the kids to your tent every morning in a lovely picnic basket to get you started for the day.
Bathrooms
Washing facilities and toilets are located in a central location just a short walk through the woods from your tent. A night toilet is located close to the tents.
Amenities
The tents are located to the west side of the Estate. The area is close to the playground, toilets, showers, kitchen, laundry,games room, reading room and shop. A dedicated central area is provided for barbecues and camp fires. Barbecues and camp fires are not permitted outside of this area. Toilitries are provided and additional personal items are available from the Shop. There is also a night toilet close to the tents.
The Result
Pure natural bliss.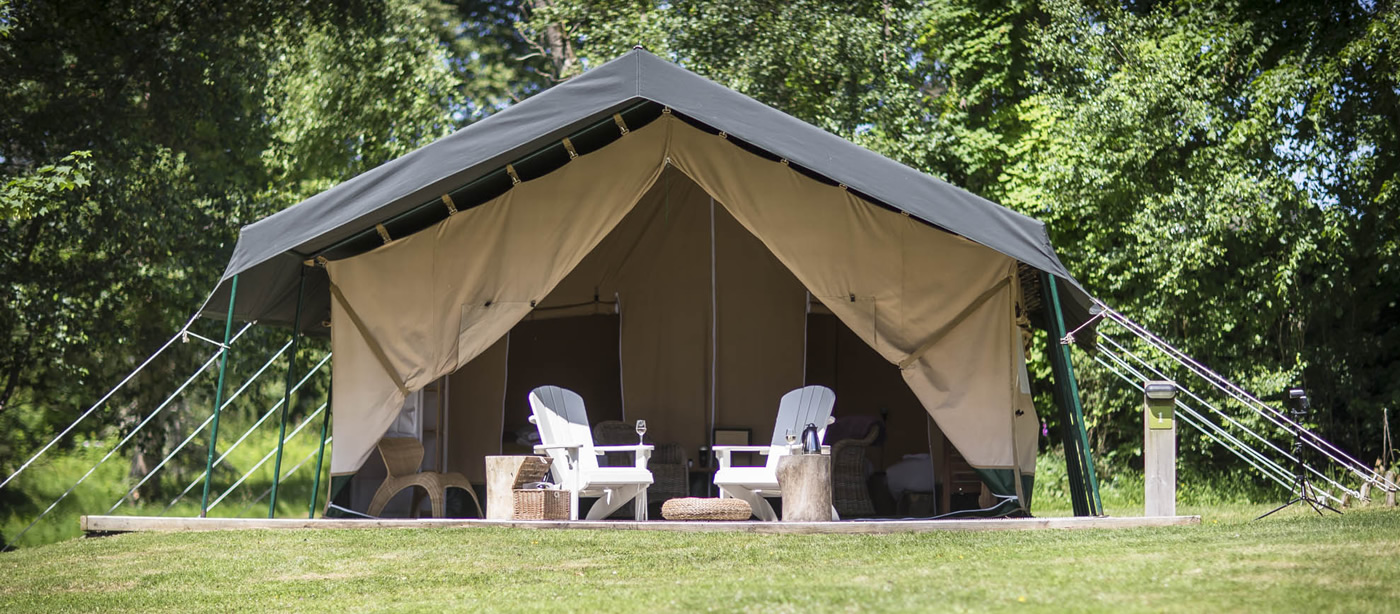 Please Note. At weekends Dromquinna Manor caters for weddings and music can often be heard in the camping area. We do our best to control it but are not always successful so weekends are not for light sleepers. Sunday-Thursday the only sounds you will hear are the abundance of wildlife so plan your stay with us to suit.
Our Hideaway Tent is secluded in the woods with stunning veranda and views over the cliff and water. For that special occasion The Hideaway is entered through a private gated garden, has antique furnishings and ensuite facilities. Breakfast to your door, mini bar and total seclusion are all that is needed to escape from everything.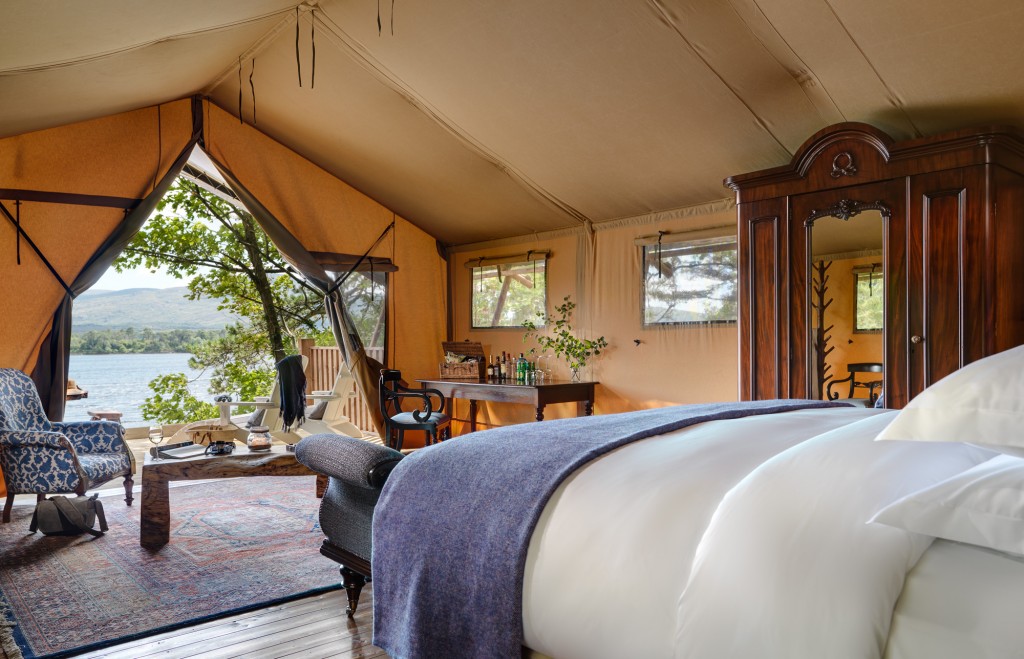 To Reserve The Hideaway Email Admin@DromquinnaManor.com or Telephone 064 6642888